Regular price
Rs. 599.00
Sale price
Rs. 199.00
Unit price
per
Sale
Sold out
About this item
Suitable for women who have tall and strong build or given birth to a child by vaginally or by caesarean section or who are over the age of 30 years. Menstrual Cup capacity upto: 30 ml, Capacity Up to Rim: 35ml, Cup Diameter: 46mm, Cup Total length with Stem: 72mm, Cup Length: 57mm, Stem length: 15mm, Best alternative to sanitary napkins, tampons and disposable sanitary pad the most modern intimate hygiene product for girls and women of all ages and flow levels

Reusable Menstrual Cup is an ideal menstrual aid for all kinds of sports, travelling, swimming, cycling, diving, trekking, caving, dancing, climbing or common daily usage. Menstrual cups have been in use for more than 80 years, Life Expectancy: upto 10 years, if maintained correctly, 12 hours leak free protection, Comfortable, clean, and easy to use, Reusable feminine hygiene product, Material: Menstrual Cup is made from Thermoplastic Elastomer 100% medical grade material.

You cannot feel the Menstrual Cup while you are wearing it, Menstrual Cup can be worn overnight, Cup is comfortable and does not cause irritation or dryness, Menstrual Cup is non-allergenic and non-toxic, Cup is easy to insert and remove and is ideal for women of all shapes and sizes, The most modern and intimate hygiene product for girls and women, Menstrual Cup offers up to 12 hours of hassle-free day and night menstrual care, It has no wings or strings, It leaves no residual fibers.

Menstrual Cup is the safest menstrual cup in India for feminine hygiene; Cup has proven its quality & durability on all tests. Menstrual Cup is tested according to ISO 10993-5 (Cytotoxicity), ISO 10993-10 (Mucosal Irritation), ISO 10993-10 (Sensitization), USP "CLASS VI" Tests Acute Systemic Toxicity, Intracutaneous Irritation and Intramuscular Implantation. Repeated bending strain & flexing for crack growth test upto 1,50,000 cycles has been done, It is time to try a Menstrual Cup.

Menstrual Cup is safe; it is developed especially for menstrual hygiene management. Menstrual Cup to help you handle your periods, Menstrual Cup is easier to create a seal inside to experience a completely leak free period, Menstrual Cup without suction holes designed for higher capacity, One-time purchase that saves you money and time, No odor and irritation, Covers heaviest to lightest flow, Period care made easy, Cup will be shipped as discreet/concealed packing
---
Product Description
● Experience A Completely Leak-free Period After years of seeing and smelling disposable tampons and pads, the typical reaction is "ick". But it's time to say Good-Bye. Importikaah menstrual cups empower women to connect with their bodies and menstrual cycles like never before. It sits low in the vaginnal canal and collects your menstrual flow without even you noticing it. It is an ideal menstrual aid for all kinds of sports, including travelling, swimming, cycling, diving, trekking, caving, dancing, climbing, or common daily usage. You cannot feel the Menstrual Cup while you are wearing it. Menstrual Cup offers up to 12 hours of hassle-free day and night menstrual care. In addition, it creates a seal inside that prevents any leaks. Cup is easy to insert and remove and is ideal for women of all shapes and sizes. Also, it covers the heaviest to lightest flow. Period Cup is comfortable and does not cause irritation or dryness. Because it has no wings or strings and does not leave any residual fibers. Menstrual Cup is non-allergenic, non-toxic, and 100% safe to use. Moreover, this one-time purchase saves you money, time, and most importantly, It's safe for the environment.
● Leak-Free Period
Importikaah Menstrual cup is a reusable silicone cup that collects your monthly blood flow. It's inserted like a tampon and sits comfortably in the vaginnal canal. Plus, it offers comfortable, odorless, sensation and leak-free periods
● Active and Comfortable
You can wear Importikaah Menstrual Cup for 12 consecutive hours before cleaning it and reinserting it. You can dance, run, swim and sleep while wearing your menstruation cup, as it performs equally well when you rest or are in motion
● Healthy Eco -Friendly and Free Yourself From Disposable Products
300 lbs. 300 pounds – that's how much waste the average person creates using disposable period products in a lifetime. With proper care and use, one Importikaah Period Cup can be reused for many years, eliminating the need for disposable products.
● Less cost
Want to save that money? With proper care and use, the Importikaah Menstrual Cup can be used for up to a year, sometimes even for ten years, saving you the money for disposable products.
● Spend Less Time Worrying About Leaks And Looking For Bathrooms
Spend less time worrying about leaks and looking for bathrooms. The Importikaah period cup can be worn for up to 12 hours, depending on your menstrual flow.
How do you insert your menstrual cup?
If you can put in a tampon, you should find it relatively easy to insert a menstrual cup. Just follow these steps to use a cup:
1. Wash your hands thoroughly.
2. Apply water or water-based lube to the rim of the cup.
3. Tightly fold the menstrual cup in half, holding it in one hand with the rim facing up.
4. Insert the cup, rim up, into your vaginna like you would a tampon without an applicator. It should sit a few inches below your cervix.
5. Once the cup is in your vaginna , rotate it. It will spring open to create an airtight seal that stops leaks.
You shouldn't feel your menstrual cup if you've inserted the cup correctly. You should also be able to move, jump, sit, stand, and do other everyday activities without your cup falling out. If you're having trouble putting in your cup, speak with your doctor.
When to take your menstrual cup out?
You can wear a menstrual cup for 6 to 12 hours, depending on whether or not you have a heavy flow. This means you can use a cup for overnight protection.
You should always remove your menstrual cup by the 12-hour mark. If it becomes full before then, you'll have to empty it ahead of schedule to avoid leaks.
How to take your menstrual cup out?
To take out a menstrual cup, just follow these steps:
1. Wash your hands thoroughly.
2. Place your index finger and thumb into your vaginna. Pull the stem of the cup gently until you can reach the base.
3. Pinch the base to release the seal and pull down to remove the cup.
4. Once it's out, empty the cup into the sink or toilet.
Afraid Of Using Menstrual Cups? Read this…
Learning how to effortlessly insert and remove your Menstrual Cup can take some patience and practice. Just like riding a bike, it may seem intimidating or even impossible at first, but once mastered, using your Menstrual Cup will feel natural and easy.
You can wear your Importikaah Menstrual Cup for 12 consecutive hours. You must empty your menstrual cup at least twice a day.
pls also add a section on how to clean the menstrual cup
Start by washing both of your hands and the cup with a mild, unscented cleanser.
Next up: Boil a pot of water, and let the cup sit in the boiling water for no more than 10 minutes.
Be careful to monitor the cup so it doesn't stick to the bottom of the pot and burn.
Once you've successfully prepared your menstrual cup, you'll also want to keep it clean every day after using it.
Cleaning the cup removes bacteria and buildup, and prevents stains and odor.
No matter where you are, you'll want to always wash your hands before and after insertion of the cup.
Remove the cup and empty the blood into the toilet.
Then, rinse it out with clean water, and use a mild, oil-free, fragrance-free soap to give it a quick clean.
Once it's clean, you can reinsert the cup.
If you're out and about while on your period, it might be harder to rinse your cup.
If you're unable to rinse the cup and use a safe cleanser, remove and empty the cup like normal.
Then, instead of rinsing, use a piece of toilet paper to wipe the cup clean, making sure to remove any small pieces of tissue.
Reinsert the cup, and go about your day.
Remember to give it a proper rinse and clean once you get home.
On some occasions, you might not be somewhere where the water supply is safe to use.
In this case, bring bottled water with you to rinse off the menstrual cup.
You'll also want to pack a travel-sized version of your favorite oil-free, unscented soap.
If you're hiking or camping, pour the blood into a cathole (a small hole in the ground) like you would with any other organic waste.
Then, use water from a water bottle to rinse off the cup, and wipe it with a clean tissue before reinserting it.
Don't forget to pack your storage pouch, too, to ensure the cup remains sanitary when not in use.
To sanitize the cup after your period is over, rinse it thoroughly, then boil it for a few minutes.
After the cup is boiled, set it aside to completely cool down and dry off.
● Made From Medical Grade Silicone
Importikaah Menstrual Cup is made from thermoplastic elastomer 100% medical-grade silicone. Plus, it is hypoallergenic and is free of BPA, latex, and dioxins
● 100% Safe To Use
Menstrual Cup is one of the safest products in India for feminine hygiene. Cup has proven its quality & durability on all tests. The Menstrual Cup is tested for cytotoxicity, mucosal irritation, sensitization, and systemic toxicity using the USP CLASS VI Tests: acute systemic toxicity, intracutaneous irritation, and intramuscular implantation. It's time to test a menstrual cupafter repeated bending strain and flexing tests up to 1,50,000 cycles.
● Have Been In Use For More Than 90 years.
Menstrual Cups have been in use since 1930, and their life expectancy is up to 10 years if maintained correctly.
Moreover a menstrual cup
● is affordable
● is safer than tampons
● holds more blood than pads or tampons
● is better for the environment than pads or tampons
● can be worn with an IUD
Suitable for women with a tall and strong build or given birth to a child by vaginnally or cesarean section.[1] [2]
Plus, It's perfect for women over the age of 30 years…
● Who care about their carbon footprint and creating less waste
● Who travel a lot and don't want to worry about carrying around menstrual products
● Who are forgetful and have to buy a new box of tampons every month because they forget theirs at work
● Who work long shifts with not a lot of time for restroom breaks (nurses, servers, teachers, etc.)
Is there any trouble getting the Menstrual cup out upon removal? I really want to try the menstrual cup, but I'm terrified of this happening!
Answer: No need to worry. It's normal to get fearful at the beginning. So, there are muscles used for pushing out babies, and they are the same muscles used for kegel exercises. When it is time to take out the cup, you push, like a kegel exercise or like you'd imagine it would be to push out a baby. Then, you pinch it just above the stem and pull, breaking the seal. After 2-3 times, you will become pro at using a menstrual cup.
Q.Does size work for high cervixes?
Q If I have a heavy flow, will the size of this menstrual cup work?
Q. What size will fit if I haven't given birth yet?
Q.Is this cup made of liquid silicone or solid silicone? What is the difference between the cups made out of liquid silicone vs. Solid silicone?
Answer: Imporitkaah Menstrual Cup is fabricated from liquid silicone. Liquid silicone is generally used in infant supplies, kitchen supplies, medical supplies, directly in contact with food and the human body. Solid silicone is usually used in industrial supplies, sundries, auto parts, etc.
Q. I'm afraid of losing the cup inside. Is it long enough for me to grab and pull out?
Answer: If you are having issues reaching the cup when trying to remove it, simply position yourself in a squat position as this will assist you in reaching the stem much easier :-)
Q.How many times can we reuse the cup before buying a new one?
Answer: It can last up to 10 years, depending on your maintenance.
Q.Do I need to take it out every time I have to urinate?
Answer: Nope, you don't have to. You don't need to worry about the cup filling up with urine because of where it sits, and the urine comes out of a completely different spot.
Q. What Is the size of the menstrual cup?
The size of the menstrual cup is (L) Large.
.The length and width are 12*10 cm of the packed.
confirmation about the size of the cup
Share
View full details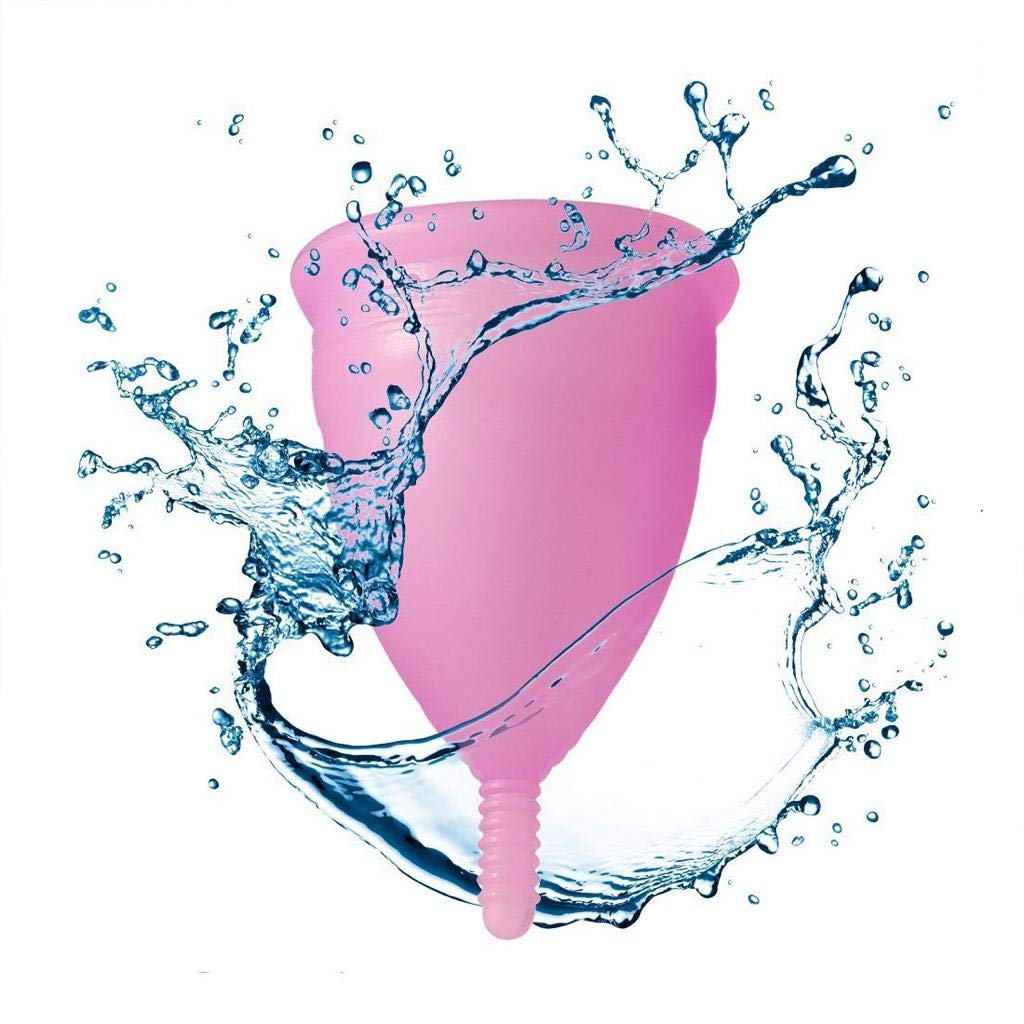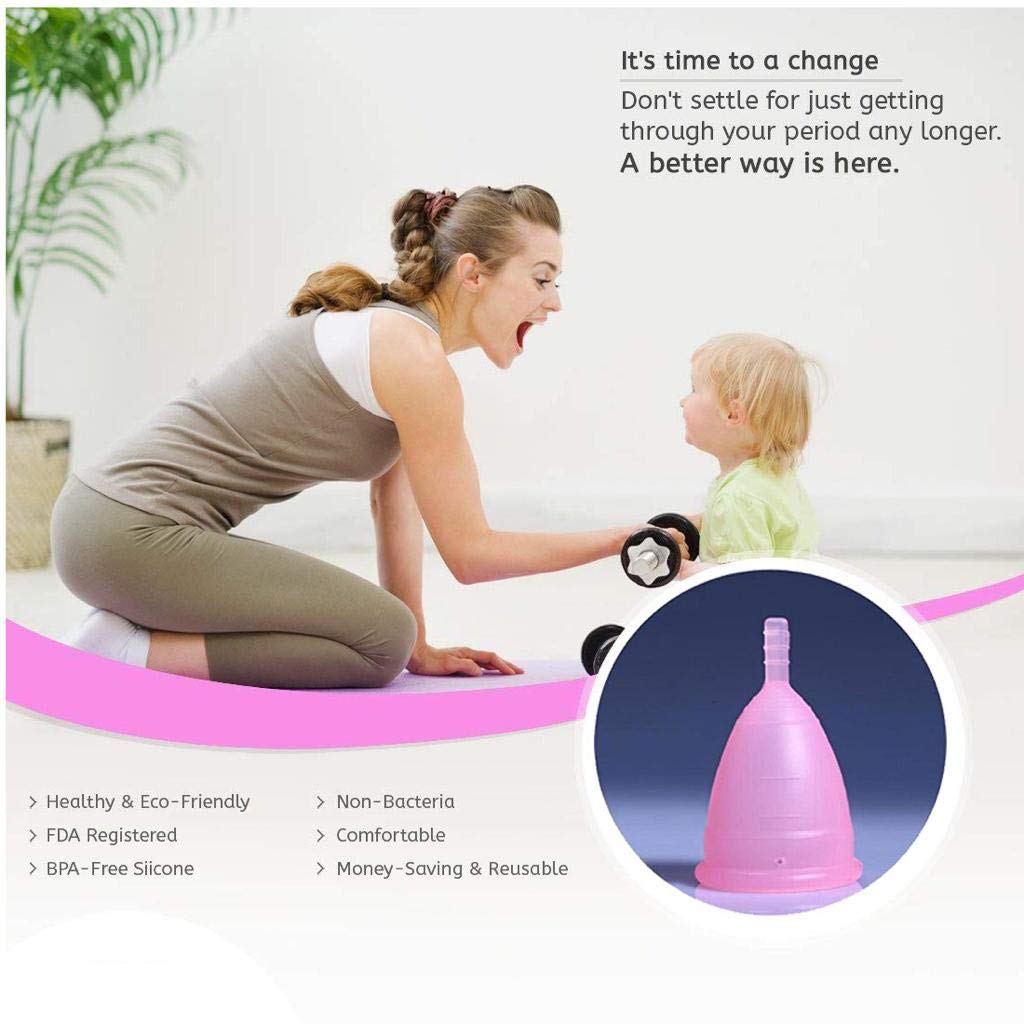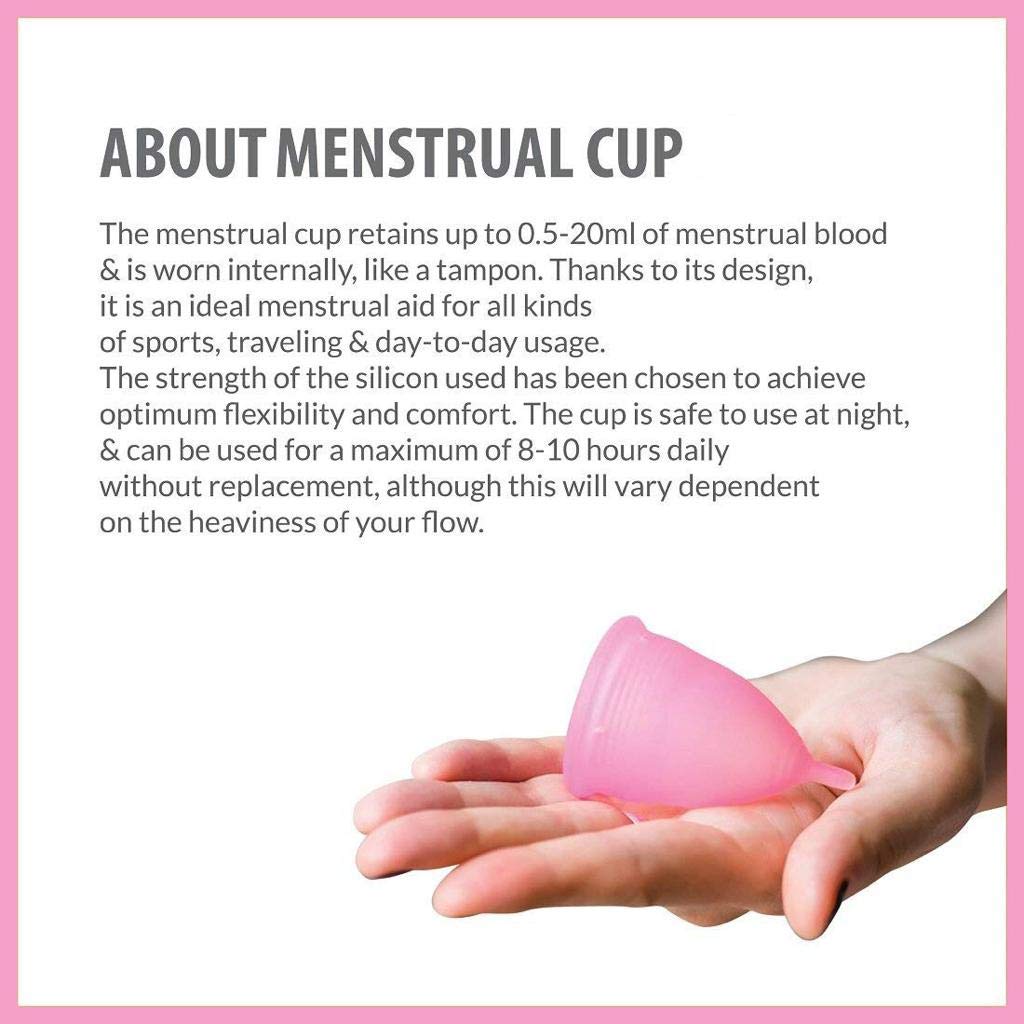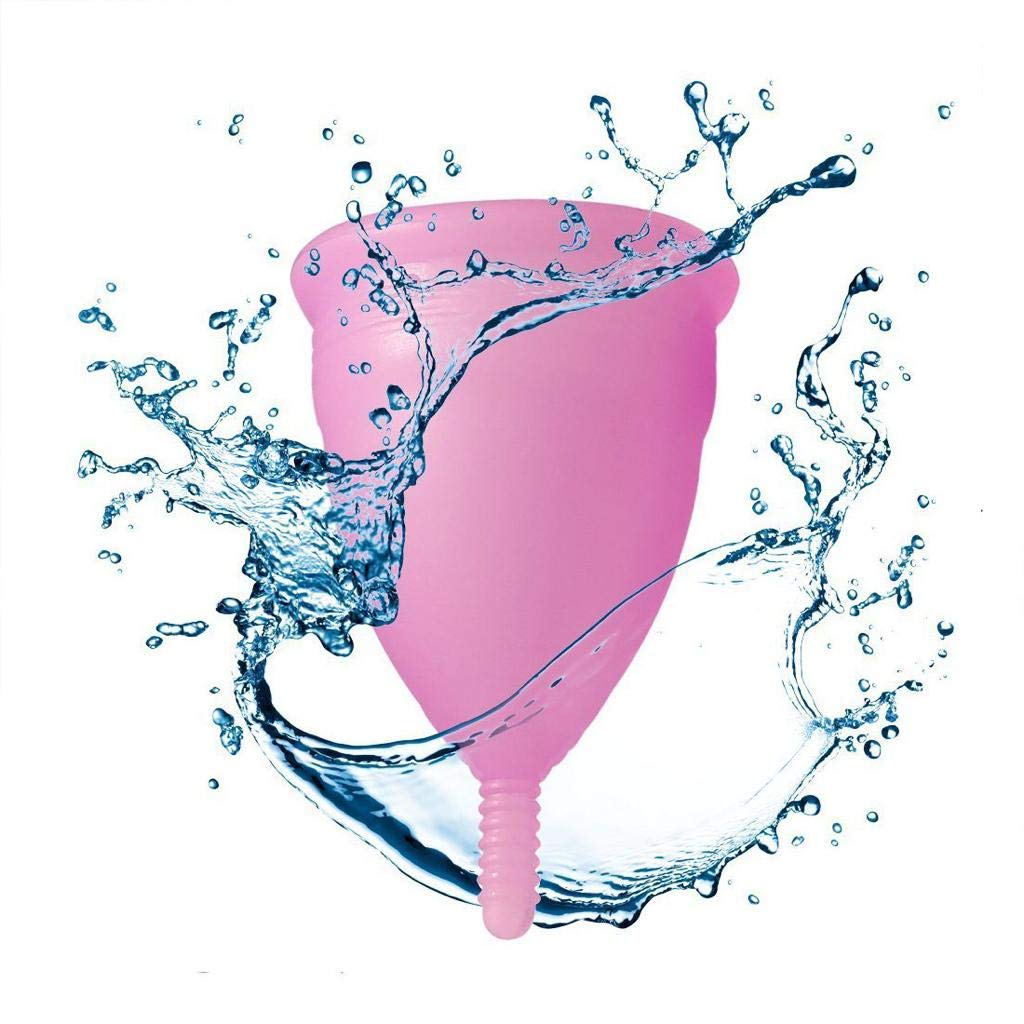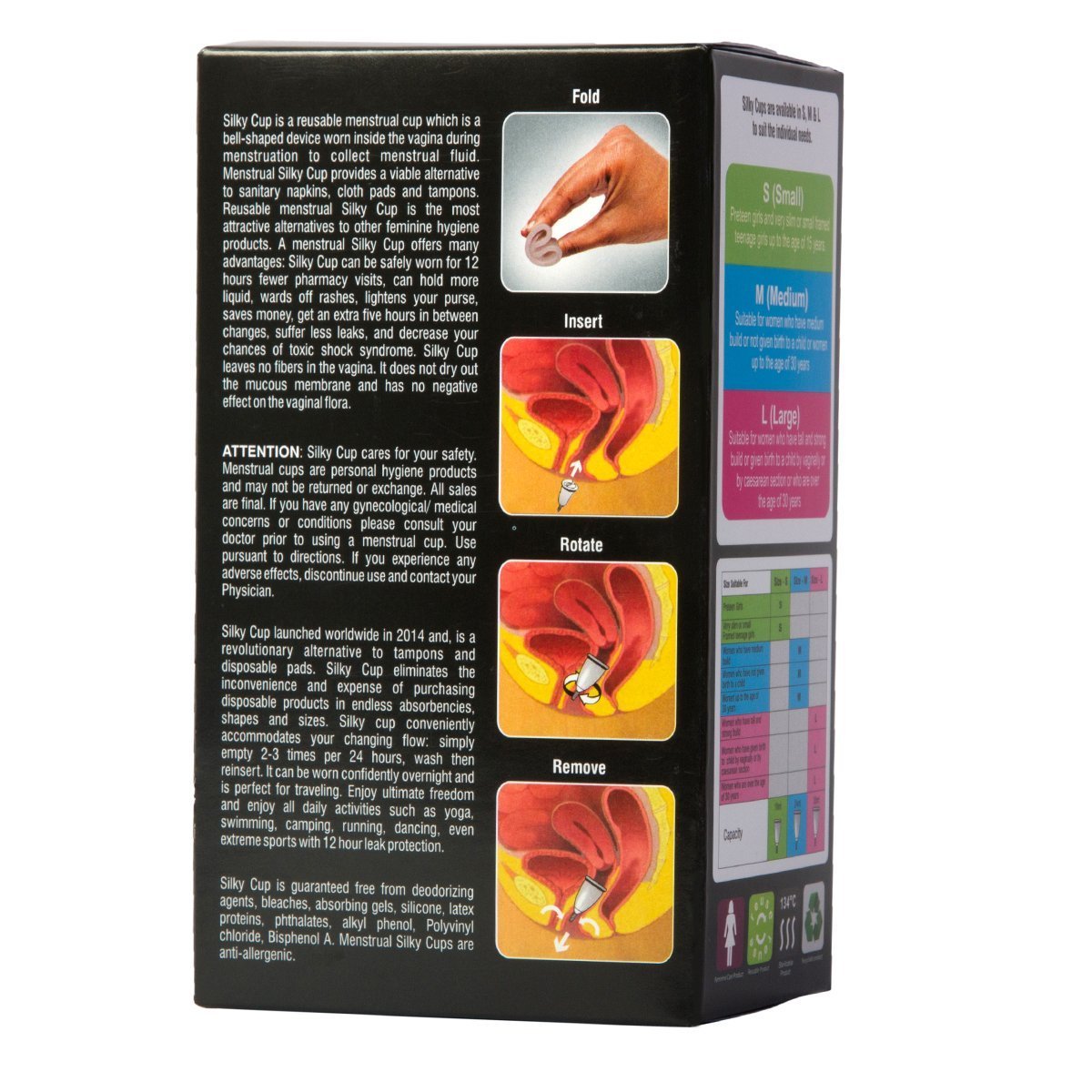 Menstrual cup
It is of a great use for me. Actually it have changed my fear for periods while sitting , travelling etc
And now have the feel for normal days and periods days as the same. Feel very happy using this
I recommend this.
Overall, I am very happy with my purchase of the Importikah Reusable Menstrual Cup. It is a great product that is not only eco-friendly, but also very practical and convenient.
This menstrual cup has greatly improved my menstrual cycle. It is very comfortable to wear and doesn't cause any leaks or spills.
I would highly recommend this product to anyone looking for a more sustainable and cost-effective alternative to traditional menstrual products.
The medium-large size of this menstrual cup is perfect for women of all ages. It is very versatile and can be used by women with varying flow levels.